Simon Seitz, Attorney, Notary & Licensed Mediator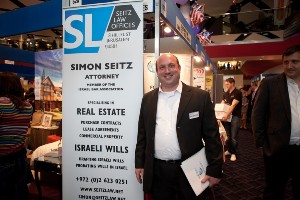 Simon has been practicing law in Jerusalem for the last 16 years, specializing in real estate and family law.
Simon graduated with an LLB from London. Upon making Aliyah he started working with Paul Stark. Upon Paul's appointment as a judge,  Simon took over the practice.
Simon is a certified mediator recognised by the Israel Bar Association and the State Of Israel Courts.
The advantage of using a boutique law office results in each client receiving the personal attention of an experienced attorney. The office prides itself in going that extra step further, providing services other medium and large offices are unable or unwilling to provide.  Simon believes in true partnerships with the client really getting to know the client ensuring the best possible advice.
Mediation
No matter what the conflict and what the real issues are, mediation is the way forward. Using various models of mediation depending upon the nature of the conflict a quick efficient solution is always at hand. Mediation can be entered into with or without Attorneys. The process includes separate meetings with each party as well as meetings with both parties.

Mediation should be considered in the following matters:

If you are considering divorce, mediation can save thousands of Shekels in Lawyers fees. In addition it can decrease the stress involved in divorce proceedings and attain a settlement which is good for both parties .

If you are already divorced and have issues that need to be dealt with, do not run straight to the court- which risks a negative reaction from the other party, but initiate mediation proceedings. No matter the problem, mediation should be the best forum to discuss and resolve the matter.


Notary
The office provides full Notary services, whether it is the witnessing of documents or the translation of documents for the various Ministries in Israel. Notarised translations are a specialty. Simon specialises in translating documents required by Ministry of Health.
A fast, efficient and reliable notary service is guaranteed.
The fee charged by the Notary is set by the Justice Ministry and may be viewed by following this link:
www.justice.gov.il/MOJHebNoteryonimschar_sherotim_noteryonim.html.
In order to save time, It is possible to fax or scan documents in advance so they are ready for you to pick them up. Please email
simon@seitzlaw.net or call 02 623 0251 for more details.